2015 was not a particularly great year. Yes, the portfolio ended the year with a positive outcome (2.98%), but that was mostly because the euro became weaker versus the dollar (-10.27%). Skagen Global was sold during the year (see this article).
What was great about 2015 (and of January 2016) was that the stock price of Berkshire Hathaway declined a bit. It became really attractive as the price is approximately at the level Buffett might consider to buy it back (under 1.2 book value per share). Berkshire is worth, according to him (and I can only agree), considerably more than that. Buying share at something like 1.25 times book value is therefore quite sensible. So, as of the beginning of January I put all my available cash into the B-shares. The current portfolio differs thus with the one shown beneath.
 The only thing I am hoping now for is that the stock market continues to perform lousy. That way Berkshire can put the cash they hold and generate to use, either by buying back stocks or by buying companies. We'll see.
The tables below show the  portfolio as of 31 December 2015 and the performance of the portfolio until 31 December 2015.
Click on table for larger view
Portfolio

Performance

Graph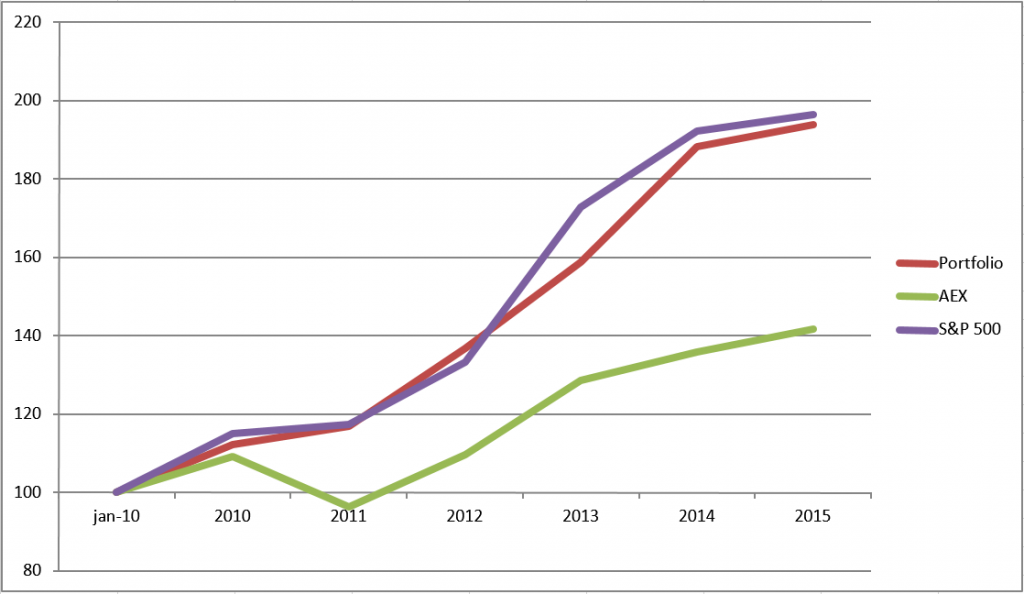 The Portfolio (1) is denominated in Euros.  Transaction costs, custody fees (bewaarloon) and dividends are when necessary included in the Annual Percentage Change. (Dividend tax is included in full years (2010 to 2013)).
The AEX (2) is a stock market index composed of Dutch companies that trade on Euronext Amsterdam. The Annual Percentage Change is calculated without taking the dividends of the current year in account.
The S&P 500 (3) is a stock market index based on the market capitalizations of 500 large companies whose common stock is publicly traded on the NYSE. The Annual Percentage Change is calculated without taking the dividends of the current year in account.
In calculating the Compounded Annual Gain is the current year considered as completed.
Since 14 May 2012 the currency risk isn't hedged anymore. This means that currency fluctuations can significantly influence the performance in the short term. To show how the currency fluctuated during a certain period, an extra column is added with the fluctuations since 14 May 2012. A decline indicates that the US dollar has become stronger against the Euro and vice versa.