Zoals elk kwartaal wil ik ook nu weer schrijven over de ontwikkelingen binnen mijn portefeuille. Het probleem is echter dat er weinig te vertellen valt. Alle bedrijven binnen de portefeuille doen gewoon hun ding en nieuwe aanwinsten zijn er ook niet. De laatste aankoop was Fairfax Financial Holdings (TSE:FFH) en die stamt al weer uit november 2012. Leucadia National (LUK), de aankoop voor Fairfax, kocht ik in april vorig jaar. Hieruit blijkt dan ook wel dat het verloop binnen de portefeuille niet bepaald hoog is.

Het lage verloop en het gebrek aan nieuwe aanwinsten is het gevolg van de waarderingen van bedrijven. Er zijn namelijk verschillende bedrijven die ik in mijn portefeuille zou willen opnemen maar de juiste prijs ontbreekt echter. Bij beleggen is het belangrijk dat je je niet laat leiden door de beurs. De uitspraken uit de bovenstaande grafiek probeer ik dus zoveel mogelijk te vermijden. Ik weet natuurlijk niet hoe het bij de lezer zit maar als ik zo'n grafiek zie, dan kan ik er niets aan doen dat de volgende vraag bij mij naar boven komt: waar in deze cyclus zouden we nu zitten?
Naar mijn mening moeten we niet lang stilstaan bij zo'n vraag. Bij het kopen en verkopen van bedrijven spelen voor mij verschillende factoren mee. Naast bedrijfsspecifieke zoals winstgevendheid en leverage, is de prijs ten opzichte van de waarde van het aandeel van belang. Waar in de cyclus de markt zich bevindt is niet alleen moeilijk in te schatten, het is ook een onbelangrijke factor bij het kopen of verkopen van bedrijven.
Het niveau van de beurs kan echter wel een indicatie geven of er relatief veel of weinig bedrijven voordelig geprijsd zijn. In de onderstaande grafiek is de Shiller PE Ratio voor de S&P 500 afgebeeld. Dit is de prijs ten opzichte van de gemiddelde winst van de laatste 10 jaar. Door de gemiddelde 10 jaar te nemen is het minder onderhevig aan schokken. Uit de grafiek is vrij gemakkelijk op te maken dat de waardering van de S&P 500 boven het gemiddelde ligt (voor diegene die het precies wil weten, het gemiddelde is 16,47). Het is dan ook niet zo vreemd dat ik weinig koopjes kan vinden. Het is echter wel mogelijk dat ik binnen afzienbare tijd verschillende aandelen verkoop omdat zij een reëel prijsniveau hebben bereikt.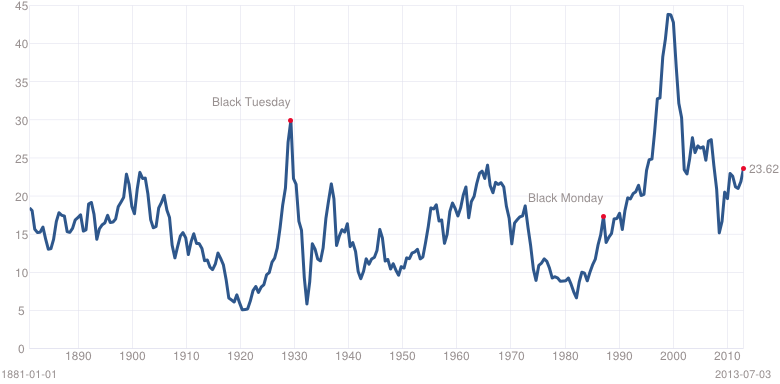 Afsluitend wil ik nog één ding benadrukken. Dat de S&P 500 volgens de Shiller PE Ratio boven het gemiddelde noteert, wil nog niet zeggen dat de bull market op zijn einde is en dat we voor een bear market staan. De bull market kan nog een tijd duren maar uiteindelijk zal er regressie naar het gemiddelde plaats moeten vinden. Wanneer en hoe dat zal gebeuren kan ik echter niet voorspellen.
Mijn portefeuille per 30-06-13 en performance tot 30-06-13
Klik voor groter formaat

Het rendement van Portefeuille (1) is in euro's, inclusief transactiekosten, bewaarloon (vanaf 1 oktober 2012 is dit afgeschaft) en dividend (Over het dividend is dividendbelasting afgedragen. Dit is in volle jaren (2010 t/m 2012) bij het rendement opgeteld). Het rendement van de AEX (2) is in euro's, exclusief transactiekosten, bewaarloon en, in het lopende jaar, dividend. Het rendement van de S&P 500 (3) is in dollars, exclusief transactiekosten, bewaarloon en, in het lopende jaar, dividend. In de berekening van de samengestelde jaarlijkse winst is het lopende jaar berekend alsof het gehele jaar achter de rug is. Sinds 14 mei 2012 wordt de portefeuille niet meer gehedged waardoor het rendement op de korte termijn sterk onder invloed staat van valutafluctuaties. Daarom is er een column toegevoegd met daarin de fluctuaties vanaf 14 mei 2012. Een daling geeft aan dat de dollar ten opzichte van de euro sterker is geworden en vice versa.